:::
Porduct Info.
Online Date: 2020/01/07
Modify Date: 2020/01/13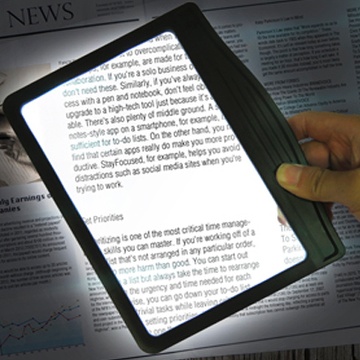 3X LED Page Reader Magnifier with 12 Dimmable Anti-Glare LED Lights
TWTC Exhibition Hall 1 A0525a
Product Model:1720
Description
Description
The full page lighted magnifying sheet with 3x magnification perfect for electronic repair and examining extremely small texts, images and object. The Anti-glare LED lighted page magnifier with 12 built in SMD LED lights. With consumes 60% less power more evenly lit viewing area 30% brighter than regular led light. Large viewing area with crystal clear lens Optical grade magnifying lens covers large viewing area without having your hands to move all the time, lens(viewing area) is measured 4.5¡¨x 7¡¨ and magnifies up to 300%.
Other Products Offered by This Company